We are a passionate team working together toward a sustainable future, solving high-impact problems that have never been solved before.
Our team is unified in our mission to make everyday flight a reality for everyone.
At Wisk, our culture is built from the ground up. Our core values help guide us and drive every aspect of working together. These values allow us to stay true to our mission of delivering safe, everyday flight for everyone, as we continue to build our global workforce.
Make A Difference
Our vision and goals drive all that we do. We are proud to lead a new industry that will make a meaningful difference in the world.
Inspire Innovation
We are naturally curious in the pursuit of aviation breakthroughs. We challenge and test our ideas to do what hasn't been done before.
Be Empowered
We are empowered to make the call. Respect, trust, and aligned processes propel us forward.
Bring People In
We value our people and diversity. Transparency, respect, and accountability unify us. We learn from our failures and celebrate successes.
Lead with Safety
Safety is at the forefront of all we do. There are no shortcuts to keeping our customers and each other safe.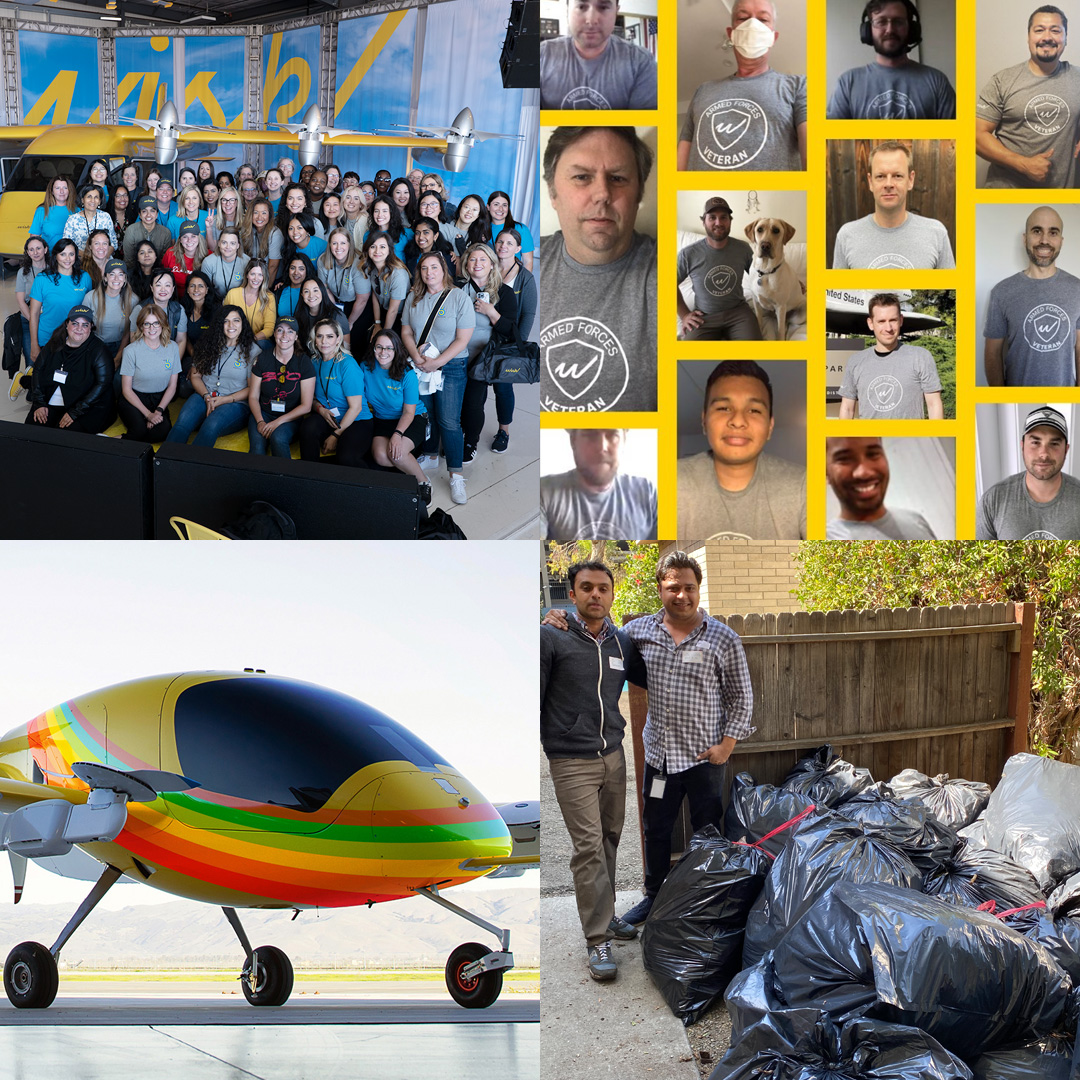 Our Employee Resource Groups
Our employee resource groups (ERGs) are grown and developed organically—created and led by team members who are passionate about their group's cause. We recognize that diversity and respect makes us a stronger team and are proud to support our ERGs across the globe.
Pride at Wisk
Wisk Women
Wisk Veterans
The Sustainables
Additionally, we have several culture clubs, where employees connect over shared interests and hobbies including Aviation, Book Clubs, Bike Clubs, and more.
"We have integrated the lessons learned from the aerospace industry with a startup mentality so we can move faster, operate more efficiently, and use our engineering creativity to solve real-world problems."
– Carlos M.
Electrical Wire Harness Engineer
"For me, it is about the people. We are all here to solve a very hard problem, and everyone here at Wisk is at the top of their game."
– Sytse T.
Staff Project Engineer
"The spirit at Wisk is what attracted me — it's adventurous and innovative, with freedom to explore, develop, and do hard things."
– Sydney W.
Creative Director
Our Environmental Commitment
Our safety-first culture extends beyond just the development of our all-electric, self-flying aircraft. From conscious design to monitoring our environmental footprint and our future impact, we're committed to doing our part to safely care for the environment.
Wisk's sustainability strategy is based upon three pillars:
Reducing our carbon footprint — our ultimate goal is to reach carbon neutrality
Proactive waste management and recycling — inclusive of our e-waste, carbon fiber composite, and battery components
Implementing Sustainable Design — embed sustainability into all steps of the design process
Do you want to be part of history by bringing the first autonomous eVTOL air taxi to the U.S.? Then we want to talk to you!